This page was exported from Caledon Citizen [ http://caledoncitizen.com ]
Export date: Fri Feb 22 19:08:06 2019 / +0000 GMT
TRP Parts & Service shares success after strong first year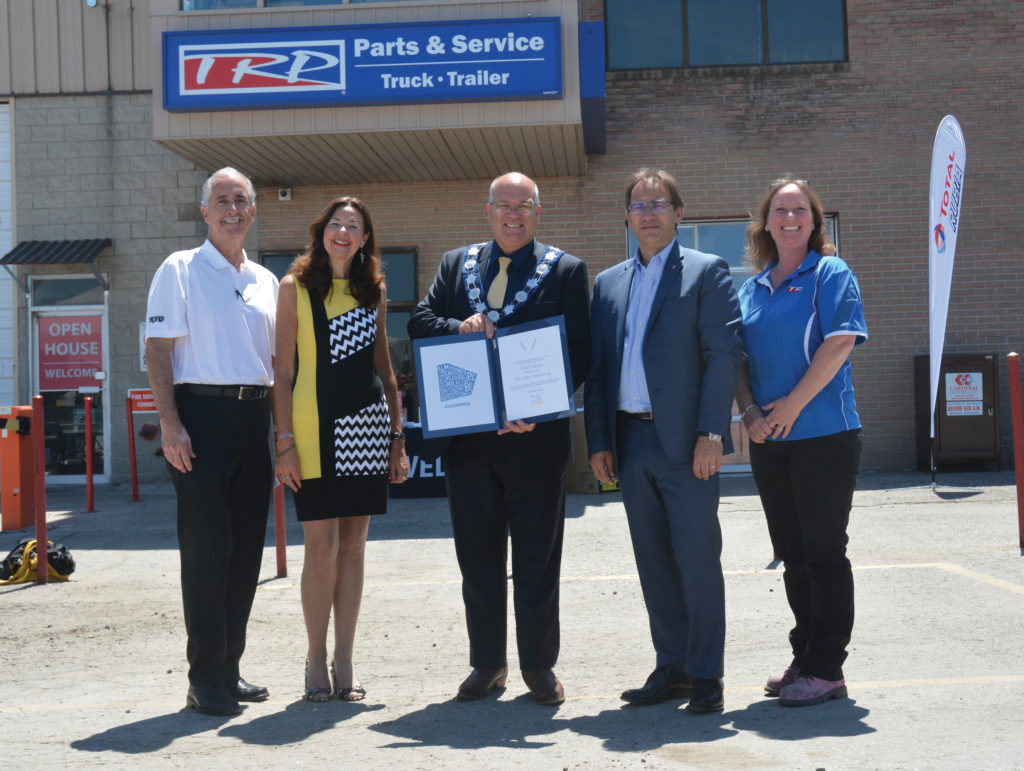 Written By BRIAN LOCKHART
TRP Parts & Service is a heavy duty truck facility specializing in hard parts & service for the transportation industry.
TRP Parts and Service is now located in Bolton with a full service shop and a parts department.
This truck facility boasts a knowledgeable staff and a full line inventory that will provide you with all your repair needs.
With over 170 locations across North America, TRP has become a leading industry choice for businesses that rely on their most valuable asset – the truck – to stay in top working condition. TRP offers parts for all makes and ages of trucks, trailers, and buses.
"We offer affordable original equipment parts and certified service for all makes and all models of heavy duty trucks," explained Sales Manager Bob McPherson. "We service everything from Class 5 to a Class 8 vehicle. Our customers can choose from OE captive parts to an aftermarket alternative and we also provide a full line of oil, DEF fluid, coolant and chemicals. Our service includes a 'Total Rubia' quick lube bay for customer oil changes."
Through an extensive offering of heavy duty parts and components, TRP specializes in servicing large fleets, independent service providers, owner operators, and those who repair their own vehicles.
Sometimes you need expert help with repairs, especially on heavy duty trucks.
"Not only can we sell you the correct part, we also off the service to get the truck repaired. We even have a drive through lube bay for oil changes," he said. "We fix everything, from under the hood to under the chassis. We do everything from brake jobs to engine jobs."
When it comes to heavy duty and full-sized rigs, having the right tools for the job and the knowledge that is required to make the repairs is critical. This means TRP has a staff of highly trained technicians who service the vehicles.
"We have a senior, experienced staff here who know the business and provide a high level of customer service for the walk-in customer."
In addition to repairs, the shop offers custom enhancements and modifications that personalize a truck and make it different from other similar trucks on the road.
This includes accessories, lighting, chrome, and more.
The TRP location is currently open Monday to Friday from 7:30 a.m. until 5:00 p.m. There is a plan to extend hours as the business grows going forward.
After being at their new home in Bolton, for just over a year and having great success in providing service to truckers and trucking fleets around the region, TRP hosted an open house event on Thursday, June 21, at their Albion Vaughan Road location.
There was a barbecue, prizes, and great deals.
"It's an opportunity to thank our customers for the first year of us being here. It's also an opportunity for customers to have a tour of the facility and there will be some of our suppliers here doing some training," expressed Parts Manager Melissa Lambert.
With guest appearances from the Caledon Mayor, Allan Thompson, Today's Trucking, Truck news, and local charity, Volunteer MBC, the event was a complete success.
A donation to the charity on behalf of TRP Bolton was also showcased at the open house.
TRP is located at 11339 Albion Vaughan Road, in Bolton and they look forward to meeting new customers and serving the trucking industry in Bolton and the surrounding area.
Post date: 2018-06-28 12:30:24
Post date GMT: 2018-06-28 16:30:24
Post modified date: 2018-06-28 12:30:48
Post modified date GMT: 2018-06-28 16:30:48
Powered by [ Universal Post Manager ] plugin. MS Word saving format developed by gVectors Team www.gVectors.com