Editorial — Think of Hubert Corless Sunday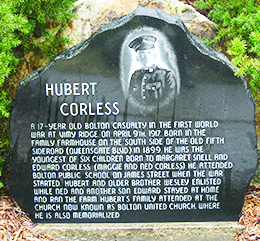 Sunday marks the 100th anniversary of the start of a bloody battle that many historians hold up as a key point in Canada's coming of age as a nation.
The Battle of Vimy Ridge was a great victory for Canadian forces, but it came at a terrible cost.
According to the Canadian War Museum website, 3,598 Canadians were killed and another 7,000 wounded.
But there is a local connection to the story, and it involves a young man named Hubert Corless. There's a street named after him in the eastern part of Bolton, just south of Allan Drive. There's also a park, with a stone commemorating his sacrifice.
The stone, which bears his picture, states he was killed at the age of 17 the first day of the battle, in other words 100 years ago Sunday. He had been born in 1899 in the family farmhouse on the south side of what was 5 Sideroad (now Queensgate Boulevard).
There will be much attention paid to the anniversary Sunday, with reflective articles, documentaries, etc. We in this area can think of the 3,598 who died in the battle and put at least one face to it all.
Lest we forget.